STORE HOURS:
Mon - Thurs: 12pm - 8pm
Fri: Closed • Sat: 10am - 4pm
Shop Online anytime!
CALL US (440) 237-9400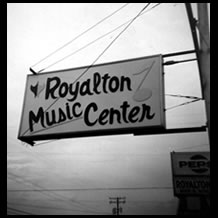 Original sign, circa 1964
The History of Royalton Music Center


The history of Royalton Music Center dates back to 1964, when entrepreneur and band director Richard Eleck opened the doors of a new music store, with the help of his loving wife Ida. The foundation of the business was, and still is, education - from children to adults. Sharing music with others and making it affordable was the compelling force of the family enterprise.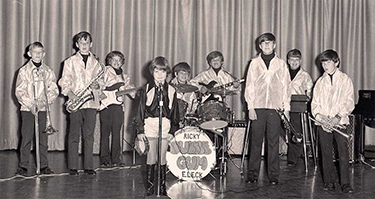 Bubble Gum featuring Holly (Eleck)
Michalke and Richard Eleck, Jr., circa 1971.
With countless hours of hard work, the modest investment then grew to allow for expansion when in 1974, Mr. Eleck opened a second location in nearby Brecksville, which was aptly named Brecksville Music Shoppe. His daughter, Sheri Eleck Haas, a Baldwin Wallace graduate, ran the second store for the next seventeen years. Both stores established their reputation of quality customer service and satisfaction. Suddenly, Richard Eleck became ill and passed away in 1989; it was an extreme shock to the business, the family and the community.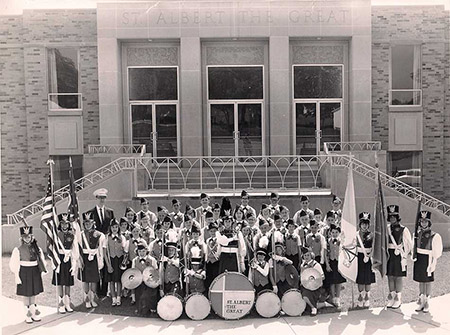 St. Albert Band directed by Richard Eleck. Sheri Haas,
second generation owner, is on the far left.

When Richard passed away, Sheri led Royalton Music Center into its second generation – expanding into professional instruments, music therapy, nationwide sales, hands-on exhibits, presentations at the National Association of Music Merchants (NAMM) conventions, and much more. Although the next 20 years brought much change in the industry, Sheri had the uncanny knack to move with the changes, yet keep the values which RMC's loyal customers had grown accustomed to.

Founders of Royalton Music Center,
Richard and Ida Eleck.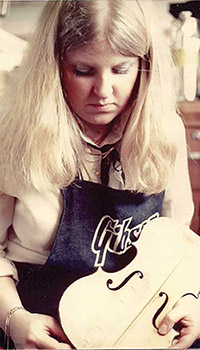 Sheri Haas learning to build
and repair violins.
As an advocate for music education, Sheri participated in many events to promote music awareness. She served as an Ambassador for NAMM on a float in the Rose Bowl Parade, lectured music stores at conventions on RMC's nationally recognized lesson program, hosted VH-1 Save the Music instrument drives, participated in family concert programs at Severance Hall with The Cleveland Orchestra, co-founded the North Royalton Community Band, and sponsored "field trips" for local preschoolers to the music store – which Sheri especially enjoyed.
RMC also launched a program to offer music therapy for disabled and special needs individuals. The music therapy program has blossomed since its inception in 1997, and offers services for a large variety of needs. Funding is available through the county board, and there are multiple music therapists on staff to find just the right fit.
In 2009, Royalton Music Center launched Professional Suite by RMC, a new division dedicated to professional musicians and those aspiring to be. Professional Suite by RMC includes a new website, an extensive and thorough inventory of all step-up and professional instruments, and is quite well known throughout the country.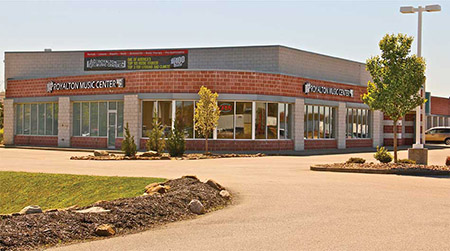 The Professional Suite by RMC experts travel nationwide frequently to attend instrument specific shows and exhibitions, attracting customers from countless states and countries! Also in 2009, Sheri was most proud and delighted that her daughter, Lauren Haas Amanfoh, returned home to continue the family's legacy of excellence in music into a third generation at Royalton Music Center. Lauren is a magna cum laude graduate of The Ohio State University with a Bachelors degree in Music, and is pursuing a Masters degree from New York University in Performing Arts Administration. She is a consummate musician and has performed professionally on French horn, piano, and bass guitar.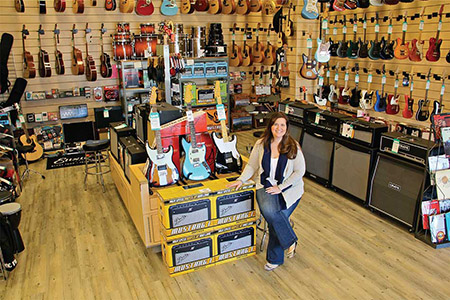 Lauren Haas Amanfoh, third generation owner,
in the new Royalton Music Center in North Royalton, Ohio.
Sadly, Sheri passed away in December 2009. Her advocacy for music education and quest for quality instruments was well known throughout the industry, and Royalton Music Center continues to thrive and work to preserve the legacy of excellence which Richard and Sheri held so dear.
Over the years, the North Royalton store has continued to grow. The square footage of the store has tripled since opening, due to the demand for RMC's wide variety of products and services. In 2011, they moved from the original storefront to a brand new state-of-the-art space, located just one mile down the road. The new space features larger lesson rooms to ensure the best learning environment for students, a retractable recital hall, an exclusive "art gallery" showcasing Professional Suite by Royalton Music Center's elite collection of fine instruments, greater showroom space, a soaring guitar wall, specialized acoustics, and improved customer and staff amenities.
Also in 2011 and 2012, 2013, 2014, 2015, 2016, 2017, 2018, 2019, and 2020 Royalton Music Center was honored as one of the NAMM Top 100 Dealers in the world, and received a special nomination as Top 3 in the U.S. for lessons/clinics/masterclasses! Find out more about these awards. Royalton Music Center is blessed to have had a long and rich history of serving students, directors, the community, and music makers from all walks of life. Now in its third generation of family ownership, Royalton Music Center continues to uphold their goal of serving the needs of musicians everywhere and making music accessible to all.